January 12 , 2018: New Parent Stress Support Group (Less Stress. More Rest!)
Has life with a new baby been, well… stressful?
We get it! And, it's okay to admit it. January 12, we can get together to create a more peaceful 2018!
---
What:

Less Stress, More Rest New Parent Support Group
(
Baby Play, Casual Expert Q&A, Support Circle, Advice for Expecting Moms Too)
When: Friday, January 12th, from 1:30pm – 3pm
Why:

So you can get answers straight from experts who work with babies every day and so you can have some adult conversation while your baby gets to socialize!
---
Stress happens for everyone. Big and small!
Your tiny human releases the stress chemical
cortisol
when she is wailing her cute little head off or when he goes silent out of fear in new surroundings. 
How can we reduce both our stress and our baby's? (Come find out Jan. 12)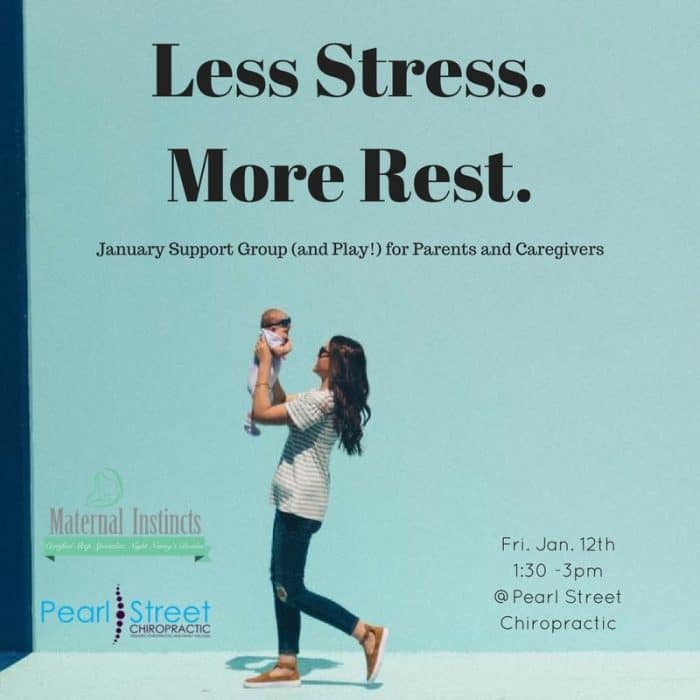 There are many techniques that can reduce stress for babies and for adults.
In this workshop, we invite you to check out the lovely Pearl Street Chiropractic and bring yourself, your partner and your baby(ies). 
We'll host a part Q&A, part giggle fest, part baby playtime, and mostly a chance for you to ask Physical Therapist Dr. Micaela O'Connor and Baby Sleep and Nutrition Expert Rachelle Gershkovich your most personal and unique questions about your baby(ies).
---
What should I expect at this casual (and informative) gathering?
Expect a lot of cute, adorable babies playing and exploring their senses in a safe and comfortable environment where everyone can be themselves, free of judgment.
You can also expect an escape from your average day and a warm fuzzy feeling when you leave!
Finally, you can also expect to leave with answers to your most puzzling thoughts about your baby, his or her physical development or limitations, his or her emotional development and expression, his or her sleep patterns (or lack thereof!), his or her nutrition and weight, breastfeeding, or any number of questions you may have

.
---
We want you to leave with positive ideas for day to day life!
---
Come Zen With Us! Everyone who relates to these issues will definitely benefit from this group:
Needing help with routines, both day and night

Wondering about physical therapy for their baby or toddler

Seeking guidance on sleep (for baby and for adults!)

Craving adult contact and adult time with baby!

Looking for a play group where you get education too

Lives near Wash Park in Denver

Wants a down-to-earth, not-too-serious, warm and fuzzy group to belong to
---
Parents can practice deep breathing, engage in optional stretching and self-care exercises, learn how to reset their baby(ies) nervous system when they are stressed, and can ask specific questions about physical wellness and health (in addition to chemical, emotional and behavioral growth information to take home with you).