The First Six Months – An Educational Series from Maternal Instincts (What to Expect if Your Baby is Six Months Old)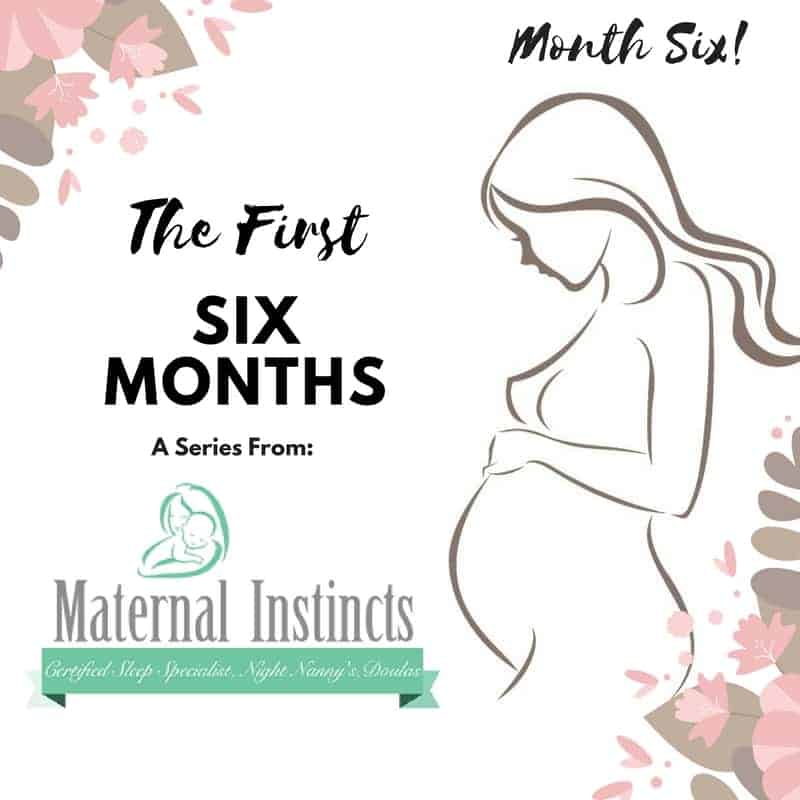 Six Months Old | Your Baby's Sixth Month | Part Six of Six
The sixth month mark. You're on your way to one year! Tear jerker. It goes by so fast. But, okay, let's live in the present and talk about your baby at six months. Six months is a wonderful age and so much fun to enjoy your child both as an infant and a developing person. They are able to communicate their needs in various physical and auditory ways.
You may even be noticing that they are not only understanding the world around them, but actually even developing preferences for certain things or ways over others. It is so fascinating as a parent to see these things gradually develop and then right before your eyes, you see them do something new. So, let's read on and talk more about what your baby is up to at six months. (And, if you didn't catch the other parts of our six part series, click here to catch up.)
Development and Communication at Six Months
Around month six, your baby will seem like they're heading off to college in comparison to that first month! Solid food generally starts being incorporated into their diet, and they are more aware than ever of the world around them, especially when it comes to language and speech.
At six months you can expect your little one to begin mimicking your speech and attempting to communicate way more. If you hadn't already, playdates are a great way to introduce your baby to people outside of the house (and give you a chance to interact with other adults too) and give them an opportunity to communicate with other babies in their sweet way. Generally, babies are sleeping more solidly through the night and getting daytime naps, and everyone starts settling into a schedule, (hopefully).
After the first six months, things continue to change and even more drastically. They start trying to sit up, if they haven't already, and attempting to stand and walk. Their first words are uttered and their personalities start to really shine and develop. Every second is wonderful from the moment they're conceived, but those first six months stand out in a special way. And like every parent will tell you, the time will fly by, so cherish the time and milestones with your baby. Get to know them and the beautiful person they're becoming.
Introducing Solids to Your Six Month Old Baby
This may be a time in your life you've been excited for in parenting. Finding out what foods your baby likes is a new world of discovery. There are better ones to start out with than others, so we've put together a list by Certified Newborn Sleep Expert, Dietitian and Author Rachelle Gershkovich (Creating Sweet Dreams, 2016).
First Foods to Consider Introducing to Your Baby:
Avocados

Pears (soft ones)

Bananas

Sweet Potatoes (cooked and soft)

Bone in Broth Soup (

get my recipe!

)
Note from Rachelle: "Babies tend to prefer sweet-tasting items, so it is okay to mix sweet-tasting food with non-sweet-tasting food. For example, you can mix a pear and an avocado together." When beginning solids it is all about practice and exposure as very little makes its way down. So go for nutrient dense items high in fat and protein. Right now brain development and muscle repair are very high, so we need these items most for an infant.
Note that when you are introducing to solids, you should be very aware of your baby's digestive system. You should already know what his or her happy normal is, and then be aware of any changes you notice. Then, adjust accordingly. You may even want to keep a journal at first. Also, be aware of the skin and look for any hives which may indicate an allergy. Also, for more solid food ideas, check out a local class! We love the Mama 'Hood in Denver and we often offer this class ourselves. It's a great way to mingle and hear common questions and answers from other moms and dads.
Great job!
About Us
Maternal Instincts is a concierge agency specializing in certified and educated nanny placement for both postpartum doula positions and overnight nannies. We also offer sleep training and help through sleep regressions with older babies. Having an overnight nanny help you a few nights a week or for the first few months can be a godsend for working parents, single parents, stressed parents, healthy parents who value sleep, parents of colicky babies, parents who need a break, parents who…. (you get the idea!). Contact us for more information or check out our blog or resources below. We look forward to hearing from you. Our number is (720) 401-7540 and we take calls 24/7 though we may need to call you back the next day during business hours. Or, if you want to, just click here to pick your own day and time for a complimentary 15-minute info call. 
Recommended Reading & Support Tips
Creating Sweet Dreams by Rachelle Gershkovich
Online Sleep Support Group facilitated by Maternal Instincts
Schedule a Nanny or Get Info from Us easily schedule a 15-minute info call, or request to book a nanny/doula or an expert sleep consultation
Check out more resources this is a page we put together of our favorite books and local parent industry experts from massage, chiropractor, photographer, etc.