Daylight Savings and Your Sleeping Baby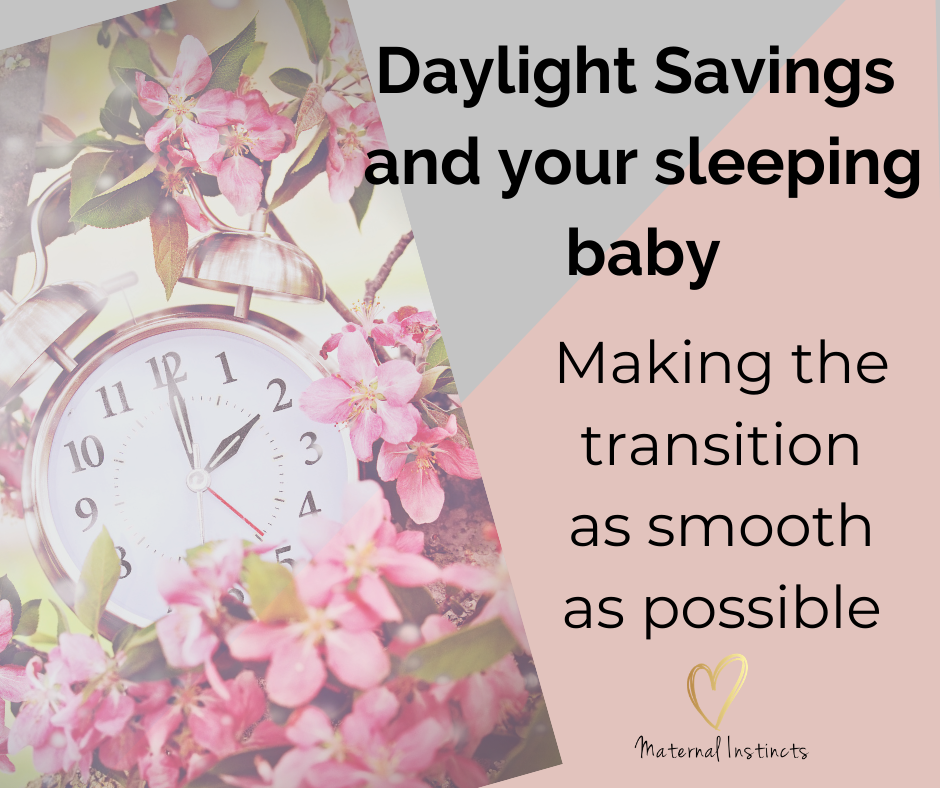 The most important factor during daylight savings for your sleeping baby is making the transition as smooth as possible.
You have to break it down to three groups:
Birth – 9 months:
At this age your little one really is not fully aware of the time change coming and doesn't care too much either. You don't need to do anything really just pretend like it never happened and follow the clock as it reads. So do not try and calculate what time you should be doing things . If it's 7 am on March 14th morning and you typically feed that time….do it ( do not adjust it to 8 am and account for time change) your baby may be off for 1-2 days but they adjust much more quickly than any other age group . You can allow them to sleep in 30 minutes for morning and add 30 minutes to any daytime nap. Keep bedtime the same for the night. 
So don't stress about anything other than if he/she is sleeping through the night yet (call us we can fix that ( shameless plug maternal instincts).
9-18 months:
You are embarking on a much more social little human and they are very curious about all that is going on . Talk about the time changing and make a few changes leading up to is.
This week change bedtime by 20 minutes and give them some time in between the changes.
March 9,10,11th- 7:20
March 12,13 7:40
March 13th- Time change try bedtime at 8pm
March 14th Bedtime is now 8pm on the clock but their body feels like it is 7pm.
Holy moly you forgot about time change and its March 13th….eeek change it tonight to 7:30 and on March 14th is will be 7 pm again on the clock but their body will feel like its 8pm for a few days.
18 months to toddler:
Get ready…. You will need to make sure you begin now. Change bedtime by 15 minutes every other night and by March 13th you will be completely prepared. At this age your little one is much more aware of any changes being made and they love to be involved!! So don't do this without fully disclosing the process with them. Let them know that the time is changing. That it is getting dark outside later every night and that it is getting warmer. Spring is coming. We have rainy days and warmer days nowl. Talk with your toddler as much as you can no matter the verbal skills they have to talk back. They are listening.
Example If you begin March 5th. And your designated bedtime is 7pm
March 7th- 7:15 bedtime
March 9th- 7:30 bedtime
March 11th 7:45 bedtime
March 13th- 8pm bedtime
March 14th—–Night after Daylight savings …the clock reads 8pm but their body feels like it is 7pm.
If you need assistance with this we have virtual support, sleep groups, and sleep consulting just schedule a call at  Sleep by Rachelle
[elfsight_youtube_gallery id="3″]