The First Six Months – An Educational Series from Maternal Instincts (What to Expect if Your Baby is Five Months Old)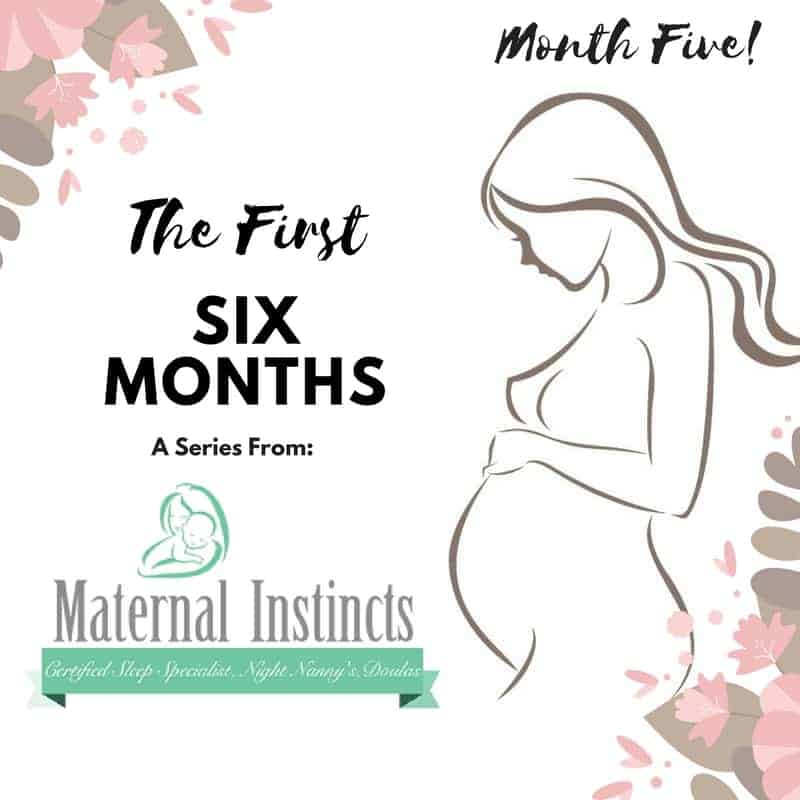 Five Months Old | Your Baby's Fifth Month | Part Five of Six
Hi Mama or Papa! You're in the fifth month of your new baby's life. Just imagining being so new makes us smile. But then again, we love babies! Okay, so the fifth month. So many things are happening. Long story short, your baby is developing into a little person day by day. She or he is showing you more of their personality and we're guessing you get even more smitten each day. So what's going on with your baby's development at this time and how can you make this month even better for both of you? Read on… (and catch up on the whole "First Six Months" series here.)
Your Emotional Health at Your Baby's Five Month Mark
One thing that many women experience after giving birth is postpartum depression. It can be common to feel sad, lost, frustrated and even feel like you're not able to connect with your baby the way everyone told you that you would. Remember, that's ok to feel any way you do, but it's important to speak up and get help when your feelings start to affect your relationships and daily life (or is putting your baby in danger). There's nothing wrong with you and millions of women who experience this every day.
Always remind yourself that you are not alone in your struggles and that they say it takes a village to raise a child for a reason. If you need help immediately, call 911 or head to your nearest emergency room. If you just need a counselor or a friend to lean on, ask a trusted friend or partner to help you find a good fit. Possibly someone who specializes in postpartum depression so that they understand the struggle and what you're going through.
Sleep or No Sleep at Five Months
As parents, everyone will tell you expect to get no sleep and that sounds terrifying to most. It's true, you probably won't get much rest in the first few months and that's ok. Reach out for help and don't be ashamed when you need it. By three or four months, some babies may be getting as long as 5 or 8 hour stretches of sleep, maybe even more. It can be during the day or nighttime, but either way that is a blessing!
Other babies may still be struggling to succumb to sleep stretches on a regular basis, and that is totally normal too. Every baby, just like every adult, is different. There are so many resources to access if you're searching for help with sleep training and night nannies are one of the best!
Trained professionals who start out helping with feedings and general care while they're still newborns and then transition to assisting with sleep training. They'll come in and let Mom and Dad get a good night's rest while they wake up and soothe the baby back to sleep. It's really helpful to get some sleep at least here and there during the first six months of really intense newborn parenting! To encourage sleep, do daytime activity, short naps, feeding throughout the day in 2 – 4 ounce increments every two hours or so (get the guidebook with charts here), use am/pm routines to establish structure and understanding of night and day, and soothe your baby with nervous system resets. And, just keep trying, You got this! Or, call us for help.
Development at Five Months Old
One thing to remember is that every baby is also an individual. That means that development milestones are a bit different for every baby. Generally, your baby should be alert, interactive, recognize you and others, be able to physically wiggle and roll a bit, coo and generally be a sweet little energetic, curious baby.
If you see signs that your baby is withdrawn or not acting in a way that shows responsiveness to sounds or activities around them, it may be time to consult with your pediatrician. Don't worry though, babies are just sensitive and experts know remedies for all sorts of issues. Always good to get your baby checked out if you think they are "behind" others their age.
If all is well, then your five month old should be able to sit up, pass objects from one hand to the other and possibly even crawl backward. They will essentially be doing some intermediate physical development on their way toward crawling. Make sure your baby has a safe space to move about and that the have sturdy objects to pull up on that won't fall over or on them. Encourage their exploration of their body. Do yoga poses around them (if you're into that!) and do some funny headstands or a tripod. They will likely be amazed…
Fun Things and Not So Fun Things at Five Months
Five months is adorable. Your baby is no longer a wrinkly 'lil thing. He or she is growing into themselves. Another time for some more family pics!!! And, maybe now your little one fits into some of the bigger baby clothes that you got at your baby shower (or sprinkle!). So that's fun. Also, baby shoes maybe? Pointless, but adorable. And, you're nearly a pro at this point right? So, going out with your baby is easier, more seamless, you know your timing, and your friends know the drill. Hello small social life back again!
And, the not so fun things? Well, one is that your baby's emotions are getting more complex. So, as the parent sleuth, you have more figuring out to do when it comes to soothing and calming. Your little one might be teething more now too, making life more painful for your little one. And, you might be back at work now, leaving your precious moments very sparse. Just breathe and prioritize. Use what you know and trust your maternal instincts.
Getting ready for 6 months
Follow us on our journey as we head into the sixth month.
About Us
Maternal Instincts is a concierge agency specializing in certified and educated nanny placement for both postpartum doula positions and overnight nannies. We also offer sleep training and help through sleep regressions with older babies. Having an overnight nanny help you a few nights a week or for the first few months can be a godsend for working parents, single parents, stressed parents, healthy parents who value sleep, parents of colicky babies, parents who need a break, parents who…. (you get the idea!). Contact us for more information or check out our blog or resources below. We look forward to hearing from you. Our number is (720) 401-7540 and we take calls 24/7 though we may need to call you back the next day during business hours. (Or, if you want to set up a complimentary info call, just click here to easily schedule one!)
Recommended Reading & Support Tips
Creating Sweet Dreams by Rachelle Gershkovich
Online Sleep Support Group facilitated by Maternal Instincts
Schedule a Nanny or Get Info from Us easily schedule a 15-minute info call, or request to book a nanny/doula or an expert sleep consultation
Check out more resources this is a page we put together of our favorite books and local parent industry experts from massage, chiropractor, photographer, etc.